On 8 December 2016, Professor Alex Bellamy (The University of Queensland, Australia) delivered a lecture on "Implementing R2P: Progress, Challenges and the Next 10 Years."
This event marked the launch of the European Centre for the Responsibility to Protect (ECR2P) which is a partnership between the School of Politics & International Studies, University of Leeds,  The Budapest Centre for Mass Atrocities Prevention and The Hague Institute for Global Justice.
Biography: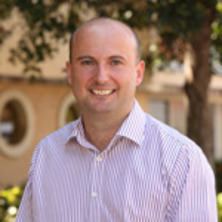 Professor Alex Bellamy is Director of the Asia Pacific Centre for the Responsibility to Protect and Professor of Peace and Conflict Studies at The University of Queensland, Australia. He is also Non-Resident Senior Adviser at the International Peace Institute, New York and Fellow of the Academy of Social Sciences in Australia. In 2008-2009 he served as co-chair of the Council for Security Cooperation in the Asia Pacific Study Group on the Responsibility to Protect and he currently serves as Secretary of the High Level Advisory Panel on the Responsibility to Protect in Southeast Asia. His recent books include Responsibility to Protect: A Defence (Oxford, 2014), The Oxford Handbook on the Responsibility to Protect (edited with Tim Dunne, Oxford, 2016), Providing Peacekeepers (with Paul D. Williams) (Oxford, 2013) and Massacres and Morality (Oxford, 2012). Dr Bellamy is also co-editor of the Global Responsibility to Protect journal. He is currently writing a book on the decline of mass atrocities in East Asia.
Abstract of lecture: When it comes to R2P, most of the normative struggle is now behind us while most of the operational challenges are still before us. Recognizing that a gap has emerged between the world's normative commitment to R2P and its ability to make this principle a living reality, this talk called for a more comprehensive approach to the practice of R2P. This must include the full range of actors that play a role in inhibiting atrocity crimes and protecting vulnerable populations, including the new European Centre for R2P at the University of Leeds. The talk combined analysis of the normative effort to win support for the R2P principle with an examination of international responses to major crises since 2009, such as those in the Middle East (Libya, Syria, Yemen) and sub-Saharan Africa (DRC, South Sudan, Mali, CAR), as well as some critical cases before that time (notably Kenya and Sri Lanka). It suggested that whilst tangible progress has been made, significant challenges remain ahead that will require a redoubling of efforts.